Biography
Formed in 1979, inspired by the U. K. Subs, the U-Boats performed, recorded and endured for parts of three decades.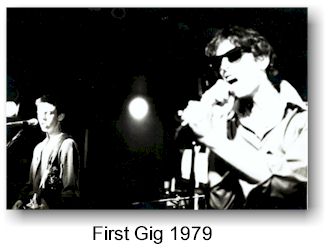 The early years (the U-Boats' story)
Starting out as the xtortionists, and quickly changing to U-Boats, as an alternative to the aforementioned "subs." See more about the name U-Boats later. Leader Michael Nelson (lead vocals), and Tony Peters (guitarist), formed the core of the early years. Incidentally, Peters would eventually play drums, then bass, through times of numerous personnel changes. Gigs were sporadic early on until the addition of Jay Jetmore (guitar).
Next, throughout 1981 and 1982, shows increased, also appearances on WMNF-Tampa (community radio, alternative, etc.), songwriting culminating with the bands' first single - Government Rip-Off – on the Crow Label. One thousand of this single were pressed, all selling out. Excellent artwork on the front cover by Jimmy McHugh was appreciated.
As we move on, here is a special note: On July 4, 1982, U-Boats played Daytona Beach, Fl., opening for punk heavyweights from L. A., Black Flag. Henry Rollins had just joined them. It was a wild night in Daytona! Rollins became a regular correspondent with Nelson on band updates, touring and record releases. Both bands stayed in touch for years. Incidentally, the U-Boats financed this first single.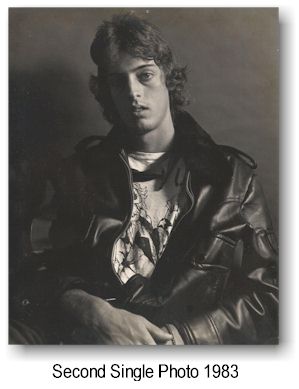 The Brewer Years
Due to the success of this single selling out, Crow Records signed the band to an exclusive contract for the near future, or up to four years. This event would be reported in the industries fanzines and culminate by being in Billboard Magazine's "talent and venues" section in mid 1982.
1983 arrived with changes and a band on the rise. First, Chris Agora joins as new bassist, replacing Bob Widenhofer. Next, former "Strait Jacket" band drummer, Allen Esser, joins, replacing Peters who had moved to drums. The addition of Esser is a huge turning point. Song lists, originals and shows increase big time. Throughout 1983, everything solidifies. The U-boats are now a statewide force playing all over Tampa, as well as, numerous shows in Jacksonville throughout the years to come. Opening for the "Circle Jerks" at one point at Stevie Stiletto's 7:30's club, Miami at the "cell," Sarasota (University of South Florida's new college), Tallahassee at "Smittys" – F. S. U.'s punk/alternative venue, and opening for the "Dead Kennedys" at the University of Florida (at Gainesville), the "Rat". The Dead Kennedys Jello Biafra was outrageous (reciting poetry, then propaganda, sometimes between songs.)
Still after all this, personnel changes continue. However, this time for different reasons. Esser leaves to join his brother in Boston, to form "Primitive Romance." And, Agora leaves for personal reasons. Enter new bassist Alex Civiletti and drummer Aaron Knerr. At this point "the boats" begin work on their second single (an E. P. 7")," America Unemployed" b/w "V. F. W. Ball" and "Bad Boy". Two thousand five hundred units were produced, with sales of 90%. As a side note, Allen Esser did the front cover art on this hardcore E. P.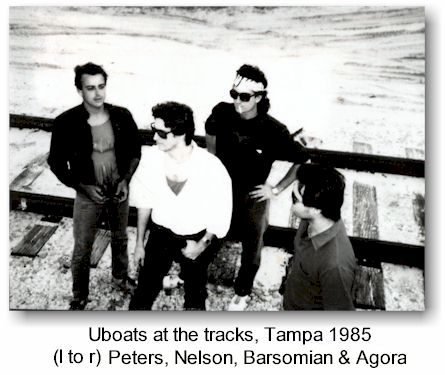 As 1983 draws to a conclusion, U-Boats are beginning to have a punk/heavy metal edge sound. Also, plans are made for a west coast tour via New Orleans, Houston and Phoenix; and moving forward on their first L. P., Decisions, are made. They play the "Beat Connection" Club in New Orleans. Then, they returned to Tampa and began work on "Street Tough," the bands' aforementioned first album. 1983 gives way to 1984 and the recording begins.
This album, "Street Tough," is unique in many ways. First, it was recorded twice. Best selections of each version were used. Also, personnel moves are made again at the request of "Crow Records" boss, Douglass Brewer. Enter Scott Hires on bass, and Allen Esser returns from Boston on drums. Many people find this hard to believe but ten thousand units are pressed – selling out. Fan mail comes in from all across the U.S. and as far away as Warsaw, Poland. Lots of sales in Europe. College radio plays a huge part in record sales. Witnessed by U-Boat reaching #3 on playlists' charts at the University of Ohio at Berea, the University of Wisconsin at Oshkosh and the University of North Carolina at Chapel Hill. Top ten at many others.
"Misfit," a commercial radio fan favorite was featured on Tampa Bay's AOR 98 rock station. The "basement tapes" was a weekly local band promotion to help area bands. This song took off and throughout the mid 80's, this song received regular airplay throughout the southeast on commercial AOR radio.
One more unique aspect of "Street Tough"…the T. T. Police song was special to Crow Records boss/producer, Douglass Brewer. An avid F.C.C./Ham radio buff, he had recently had run ins with this "institution"…well, he had a reinstated license and went out for a drive. He recorded his trip and was pulled over. The entire incident (recording at the studio) was later recorded into the intro and conclusion of this song! Brewer later gave a copy of the album to the chief of police at this institution, At Brewers' request, the location of this precinct shall remain anonymous in the interest of justice and security for all!
Special note again: "V. F. W. Ball" and "Bad Boy" were recorded in New Orleans. "Bet Connection" Club in late 1983. This was not noted correctly on the album. Now, due to the great record sales, the U-Boats decide to take a break after three plus years of non-stop work... All but Michael Nelson.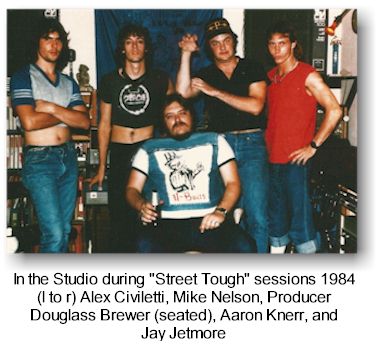 1985 arrives and Nelson makes a trip to New York City on band business at important record distributors. "Important" owed U-Boats money and while there, he meets three excellent musicians, Jason Stevens (a drummer), William Kaye (a guitarist) and Nigel Hairston (a bassist). These three did a lot of improv work in NYC (studio and live). One week transpires and after a series of rehearsals in Jamaica, Queens, and Emprov (ed) version of the U-Boats plays at the famed C.B.G.B.'s in NYC's lower east side. The birthplace of punk in America-Nelson realizes a dream come true he always thought unattainable until now.
Interestingly enough, Nigel had contacts in Atlanta and Charlotte NC, so off to the "688" Club in Atlanta, then the "Coliseum" Club in Charlotte. This occurring in the week following NYC with these successes, Nelson sought to solidify the U-Boat name and take it as far as it could go. Stevens, Kaye and Hairston part ways with Nelson; and he returns to Florida and plans begin on the next L.P.
1985 was a year of change. Obviously, the aforementioned events for one. However, back at Crow Records, a 24-track studio was being installed. Replacing the 16-track that had served on all previous recordings. Next, as if it could have been predicted (personnel changes), Chris Agora is back, but instead of bass, he is now on guitar. Tony Peters on bass now, and newcomer Greg Barsomian on drums. It is Barsomians' first ever gig with a band. And, for what he lacks in experience, he makes up for with aggressiveness—he is an excellent good fit.
Shows continue in Florida, but the "boats" stay close to home playing the Tampa Bay area mostly during this time. 1986 arrives-preparations have begun for a new album. A 9-song, 24-track kickin' record entitled "Streets of Today." Highlights on this production are: "If I Don't Have You," "Love 21" matured songwriting in a power-punk style. The title track, "Streets of Today" – punk/metal, "Dream Alive", a driving song ala "Misfit" from "Street Tough" times in which they incorporate two guitars (layered). Agora on rhythm, and Marc Austin on lead guitar; brought in specifically for this selection. Austin would begin playing live shows with the "boats" after this. And finally, "Security Clearance" which rips and "Down Go The Subs"- this song cranks-machine gun drumming, the works! This entire album has Nelson's strong vocals, clear guitar work by Agora and Austin, Peters' grooving bass and Barsomians' solid drumming. The U-Boats are satisfied with this entire production.
It could be said that all this recording would be a dream come true for any musician – the "boats" would agree that it is. But, in May of 1986, U-Boats (Nelson most of all) realized a true dream come true. They get the opening shot for the U. K. Subs from London, who are in town (Tampa) for a performance at the famed "Cuban Club." This show will be held outdoors due to the following: in part, developed by the U-Boats. You see, over the years they would cover some 5 to 6 "subs" songs, "Limo Life" and "Warhead" in particular. Therefore, everyone was very familiar with their material. Some five thousand plus would pack this venue and represent the largest crowd to ever see the U-Boats.
Back to the album, after recording costs, promotional and other expenses surrounding the release, somewhat absorbed by selling out "Street Tough", Crow Records has fulfilled its contractual obligations. That bad news hits the U-Boats hard. They could release a small amount on their own dime. But, after a ten thousand release of "Street Tough", the cost of that kind of output or more would be astronomical for a "Streets of Today" L. P. The whole matter puzzles the band, so they put things on hold and continue on playing plenty of shows throughout Florida. We'll come back to the album later.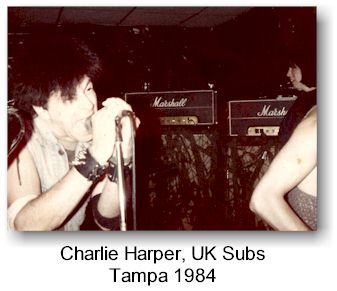 The SUB U.S.
1987, 1988, and 1989 comes and goes, lots of bands in Tampa have broken up, U-Boats played on throughout this time. Finally, they too decide to at least cease operations for a time. Years pass until the year 1992. Jetmore has moved to Atlanta-then on to Austin, Texas. He contacts Nelson and relocates to Florida. The U-Boats will now become the SubU.S. This namesake is in honor of England's U. K. Subs who the U-Boats admired. Speaking of names, it must be stated here and now that the U-Boat name was never chosen to connect with the German Reich. It was chosen as a point in time or history of the world-the guys knew it was risky and controversial. The SUBU.S. was unique in that it spelled itself frontwards and backwards.
Now the band lineup includes Nelson on vocals. He has been there from the beginning, Jetmore back on guitar, Marc Austin now on bass, and super strong machine-gun drummer, Jeff Spivey. It takes Nelson (vocally) and the rest of the band six months to work back into shape. First show is at new punk/alternative hot spot "Brass Mug" in Tampa's University of South Florida area. The band would work the Tampa area exclusively. Playing new material, such as "Buy Your Love', cranking power-rocker "Ayegowan", punky/metal 70's sounding rocker "Night at the Ritz" -punk/hardcore sound, some "Street Tough" material, and as aforementioned two or three "Subs" covers…obviously a few oldies.
Unique things about this band, another goal of Nelson had been to play two shows in the same city on the same night. This occurred in late 1994. The early show at "Daddy Warbucks" (the Bourbon Street area of Tampa), and later that night at "Brass Mug", aforementioned North Tampa area. Goal accomplished!! Another they would go to D.C. Station Studios and record approximately eight songs as a new demo.
After some five hundred plus shows, there are different thoughts on that the SubU.S. was a better band than the U-Boats. We will let the people decide. The SubU.S. last show was in mid 1995 at Tampa's "Brass Mug". No regrets, no big to do, it was just the time. It has been sixteen years covering parts of three decades for Michael Nelson.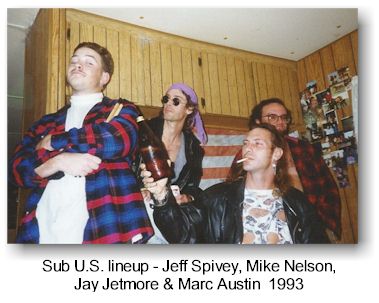 Conclusion
Sixteen years saw a lot of changes in these bands. Sometimes, it would alter a direction here to there. But, through it all, the U-Boats and later SUBU.S. stayed true to the punk/somewhat political/hard driving, call it grooving sound that kept them connected to their fans. Nelson, surviving all the personnel changes would later say "The lineup changes were tough but this can make us better always." Also, earlier in this writing after the recording of the second album "Streets of Today", it was stated "we'll come to this later." Well, due to be released in 1987, and after contractual obligations end at Crow Records, we now come to the present, finally here in mid to late 2016, it will be finally released. Check this site for details; remember this is a must to have. Also of note, on Destroy Records: U-Boats appear on the "Killed by Florida" compilation. This was released in 1998. Check "Destroy" for those details. It is definitely worth noting that with all these releases, the U-Boats stand alone (in Forida (as a band to have released more combined products, singles, plus albums and compilations than any other Florida punk band.) At the very least, they are right at the top. Some may have had more singles, but not the entire package. Albums were very rare. Check Florida punk bands ultimate collectors guide to reference this. Again, U-Boats stand alone in this area of music releases in Florida.
Finally, here we are! It has been 37 years since 1979. The U-Boats are blessed to be able to give everyone one more slice of music here and now. Thanks to our Lord and Savior Jesus Christ, without whom none of this gets done. All our families, especially the Nelsons (Don, Sharon and Lori), .the Jetmores (Leslee always there,) also Pat John, Marc and Jon. Vance and Norma, also Mays Ron and Lisa in NY, Missy, Lisa B., Jason Baughn and Ron Echols. All our friends, (you know who you are) and all our distributors and of course all the fans. Special thanks to Douglass Brewer and Crow Records, all our distributors, the club owners, and any radio station that played our music. Can't forget anyone who hung in there with us and believed in and encouraged this "gift" to do this and go for it. If anyone was left out, U-Boats will see to it that in the future (on this site, not theirs) Michael Nelson will now leave you with the last thing he said at the end of the last SUBU.S. show: "We're the SUBU.S., we love ya, and we'll see ya around…baby!!!"
BIO by Michael Nelson with help from Crow Records/Jay Jetrmore. Copyright 2014, 2015, 2016-U-Boats/SubU.S.